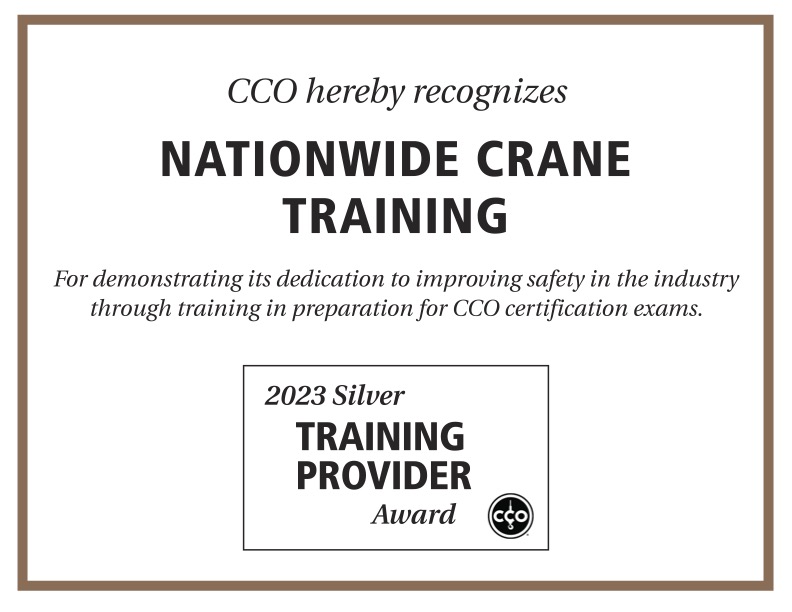 PRESS RELEASE
Nationwide Crane Training Selected for New CCO Training Provider Award
Las Vegas, NV on March 18, 2023 —Nationwide Crane Training was recently commended by CCO as having demonstrated its commitment to safety by providing training for CCO certification during 2022. The award is granted to training organizations who promote CCO certification as demonstrating the highest level of rigor achievement for those in and around load handling equipment.
The Training Provider Awards are granted based on testing volume. In 2022, over 46,000 candidates identified nearly 500 unique Training Providers. These awards are presented to those Training Providers that were identified most often.
As such, this Training Company Award demonstrates that Nationwide Crane Training strives for excellence in its training efforts and works hard to earn, maintain, and protect its safety reputation in the industry. "Nationwide Crane Training takes the time and energy to help their clients get their personnel CCO certified, thereby raising the safety awareness of the client's entire company," said CCO CEO Thom Sicklesteel.
"CCO's Training Provider Awards provide a means for training providers such as Nationwide Crane Training to show their clients, potential clients, and employees that they are not only serious about load handling equipment safety, but that they promote the highest levels of safety for the in the industry," said CCO Marketing Director Tara Whittington. "CCO is delighted to welcome Nationwide Crane Training into this pre-eminent group of companies who have distinguished themselves in their dedication to safety through their commitment to professional training for CCO certification," she said.
About Nationwide Crane Training
Nationwide Crane Training is a leading Woman-Owned NCCCO provider, dedicated to nationwide OSHA compliance. Our top-rated crane training and certification are designed to be easy and enjoyable, with a proven reputation in the industry. We take pride in being a valued partner in our customers' success, offering comprehensive support and exceptional training that sets us apart.
About CCO
CCO was formed in 1995 as an independent, non-profit organization by industry to develop and administer a nationwide program for the certification of load handling equipment operators and related personnel. Since then, CCO has administered over 1.5 million written and practical examinations and issued more than 726,000 ANSI-accredited and OSHA-compliant certifications. CCO certification prevents innumerable incidents and accidents and, according to OSHA, saves more than 30 lives a year. For all the latest CCO news, follow them on LinkedIn (nccco.org/linkedin), Facebook (facebook.com/CCOcert.org) or on Twitter (@NCCCOorg).
https://www.nationwidecranetraining.com/wp-content/uploads/2021/06/Nationwide_Crane_Training_NCT_logo.png
0
0
resultsAdmin
https://www.nationwidecranetraining.com/wp-content/uploads/2021/06/Nationwide_Crane_Training_NCT_logo.png
resultsAdmin
2023-06-29 19:16:09
2023-06-29 19:34:30
Nationwide Crane Training Selected for New CCO Training Provider Award