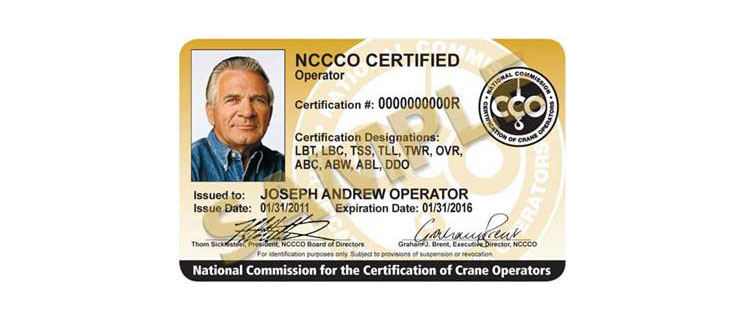 Some would think that a difficult economy would cause a decrease in the number of crane operators who pay to keep their certifications current – especially among those crane operators who are not working at the moment. Instead, the opposite is proving true.
Crane Operators understand that it costs less to re-certify than it does to lose their certification and then have to start the process all over again down the road.
That is why even out-of-work men and women are choosing to take advantage of how easy it is to re-certify. Instead of having to travel extensively to take a written test and then wait weeks for results, computer based testing (CBT) has greatly simplified the process. Operators can take a CBT re-certification test at one of more 260 centers. These testing centers are located all over the country, so most operators will only have, at most, a two hour drive to reach one.
And no more long wait for results. With CBT, the results are instant. The operator will know right away whether or not he or she passed. While it doesn't seem that operators need an additional incentive to keep their certification current, the NCCCO offers one anyway.
Crane Operators who maintain certifications for minimum periods of time will be classified as two-star, three-star operators based on how long they have maintained their certifications.
An influx of new certification requests will likely be the result of a new decision by the UA. The United Association of Journeymen and Apprentices of the Plumbing and Pipe Fitting Industry of the United States and Canada (UA), made the decision recently to require the NCCCO Signalperson certification for members who would deal with cranes or any type of lifting. This decision was made to enhance the safety of the workplaces.
Keeping crane operator certifications current during a down economy is, in some ways, more important than at any other time. Why spend the extra money to start all over in the future? More importantly, why lose a potential employment opportunity because you allowed the certification to lapse?
Take advantage of CBT re-certification and give yourself every opportunity to shine in the eyes of current or potential employers.
https://www.nationwidecranetraining.com/wp-content/uploads/2011/10/nccco-certification-card-1.jpg
321
743
results1
https://www.nationwidecranetraining.com/wp-content/uploads/2021/06/Nationwide_Crane_Training_NCT_logo.png
results1
2011-10-30 07:36:49
2021-05-16 17:19:47
Economic Downturn Produces Increase in CCO Re-certifications