The labor shortage is giving skilled workers better job opportunities. As demand rises, more and more crane operator jobs are opening up. Although everyone expected work to be back to normal by mid-2021, that's not how things played out.
Even after restrictions relaxed, some of the highest-paid heavy equipment operator jobs are still open. According to the Bureau of Labor Statistics, open jobs in The United States rose to an unprecedented 9.3 million in the summer of 2021.
Many people are jumping at the chance to start a new career or move up the ladder. Crane operator training can help you develop the skills you need to make a bigger paycheck.
Find Your Dream Career with Crane Operator Training: Construction Companies Need Skilled Workers
Restaurants are operating with limited hours and limited menus, retail stores are offering fewer services, and the cost of everything seems to be rising due to transportation shortages. According to an informal survey done by the equipment world, 83% of construction companies are having trouble finding workers.
Even some of the highest-paid heavy equipment operator jobs are vacant with 59% of those companies surveyed in need of skilled workers like crane operators.
Wages Are Skyrocketing for Crane Operators
Now is a great time to learn how to become a crane operator as many small businesses are raising their base pay rates to attract more workers. Simply put, businesses need employees in order to stay in business and make money.
However, because the Pandemic has given so many people the opportunity to pause and really think about what they want to do with their lives, employers are finding it much harder to attract new workers.
This shortage has led businesses owners to come up with incentives for new hires. Zip Recruiter crane operator wages are now averaging $36 per hour. A significant increase from the estimated $29 per hour
Signing Bonuses vs Salary Increases for Crane Operators
There are two main strategies companies are using to attract newly trained crane operators to job sites. Signing bonuses and salary increases.
The average crane operator salary has increased by almost $15,000 per year since 2019. That figure could be much higher based on your geographical location or if you were willing to relocate after receiving your crane operator training and certification. Indeed, Zip Recruiter also reported having seen salaries as high as $115,000 per year for tower crane operators in certain locations across the country.
Even some smaller companies are offering tremendous compensation, including one pool installation company promising $1,200 -$1,400 per day for heavy equipment operators on contract jobs.
Increased base rates of pay are the most reliable way to increase your lifetime earning potential and crane operator training is the best way to secure them. However, signing bonuses are nothing to sneeze at.
The National Roofing Contractors Association reports that some construction companies are offering signing bonuses as high as $3,000 and a bonus of $1000 per month. The good thing about signing bonuses is that there's room for negotiation.
Other incentives being offered to attract new crane operators include:
Compensation/reimbursement for travel
Lodging
Per diem expenses paid
At NCT, We're Here to Help You Meet Your Goals. See What Our Students Are Saying:
"I got my result from my boss last Wednesday, and passed. I really owe this to you and the way you run your class. Your questions are right there with the questions that were on the test, and your load chart questions are harder then what were on the test, making the test a walk in the park. The information you provided us in the course was also very helpful for me work, I'm able to set my crane up in a manner that will enable me to get the most out of my crane when lifting. My lifts are a lot more smoother now that I take my "boom flex" into consideration prior to making a lift. I will definitely say that your class without a doubt has made me an all around better operator, and my co-workers also notice the difference. I also told my boss and our training coordinate that when the book the next class to be sure to ask for you and make sure that you are the instructor. Once again thank you, I had a blast, and if you were to tell me a month ago I was going to be a certified crane operator… I would have said your full of…. So hats off to you!" — John Ross
Pinpointing the Highest Crane Operator Salaries Nationwide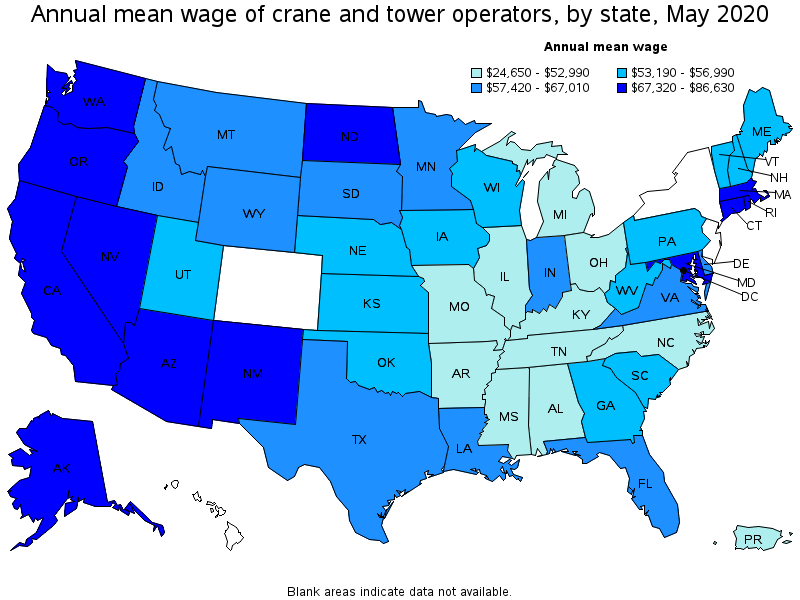 US Bureau of Labor Statistics
The average crane operator salary in The United States is up to $36 per hour now—an increase from just $29 per hour two years ago. In Canada, the average wage has increased to $31 per hour (or $65 thousand per year) from $26 per hour (just $51 thousand per year) in 2019. However, if you know where to look, you can find average salaries much higher than that.
Highest Paying Industries for Crane Operators in The United States
Some of the most active "hotspots" for crane operators and heavy equipment operators in The United States Include:

Highest Paying States for Crane Operators in the US
Some of the most active "hotspots" for crane operators and heavy equipment operators in Canada Include:

How to Become a Crane Operator
Becoming a crane operator doesn't take very long with the right training. Once you are certified you can start making the wages you deserve at a job you love. Nationwide Crane Training has helped people with little to no experience get into the industry and land jobs with much higher earning potential than unskilled labor.
We've also helped people with years of experience pick up valuable new skill sets to move up the ladder. We also offer retraining and recertification for current crane operators or heavy equipment operators that need to recertify.
Our crane training or certification classes are led by expert instructors who provide hands-on training and certification testing with a guaranteed pass on the written portion.
Classes range in duration from a few hours to several days and can be taken at any of our NCTs locations across the country. We also have remote learning sessions at your employer's job sites or online.
Get NCCO Certified Today
Nationwide Crane Training specializes in the education and certification of crane operators according to guidelines laid out by The National Commission for the Certification of Crane Operators (NCCCO).
The NCCCO has been providing industry-leading safety certification since 1995 and is held in high regard by nationwide construction companies and government agencies alike. NCT guarantees that all trainees will pass the written portion of the NCCCO exam at the end of their specific crane operator training session.
(This does not guarantee NCCCO certification, however, as a practical exam in the cab must also be passed by the individual.)
To learn more about how you too can get NCCCO certification close to home and increase your earning potential today, contact NCT for more information.
Training Programs: The NCT Difference
NCT doesn't believe in a one-size-fits-all solution to crane operator training. Over the years we've developed a variety of classes, training programs, and certification courses to suit the needs of just about any individual or company in need of on-demand training.
Open Enrollment Classes – These classes are perfect for soon-to-be operators whose company doesn't currently have access to a training program. Located at our three primary campuses, these programs are designed to be quick, convenient, and affordable.
Private Classes – These classes are available for larger groups of individuals and can be scheduled at your leisure. Typically, these classes are reserved for construction companies that need to certify multiple operators at once to meet state, federal, or local guidelines in a timely fashion—thus saving money.
NCT Crane Operator Boot Camp – This boot camp was created from the ground up to be a "quick start" for future professionals who have no experience at all. Here you'll learn the necessary skills to begin a new career as a crane operator. Our boot camp is perfect for people who are new to the industry or are looking to add more skills to their toolbelt.
NCT also offers heavy equipment operator training as well so individuals in other industries can get the training and certification they need to stay in business or to secure those high-paying jobs in energy exploration, infrastructure, transportation, and more.
Our Locations
Nationwide Crane Training has multiple campuses across the country to better serve those already in the industry who need crane operator certification and provide expert classroom instruction and testing for those seeking their initial NCCCO certification. We have locations in:
In addition, NCT can schedule remote crane training or heavy equipment operator classes and testing anywhere in the country. This remote training program is a great resource for mid-to-large size construction companies that need to certify more than one operator at a time or get recertification completed before federal guidelines expire. Contact Us to learn more about our remote training program.
Sign Up Today
It's time for you to take control of your future and secure a high-paying crane operator job! The recent labor shortage is the perfect opportunity to make a change for the better. Our crane operator training classes and certification can get you started at companies actively looking for forward-thinking individuals like you and are willing to pay much higher wages than they would have even just two years ago. You could be making $36 an hour or more by this time next year!
https://www.nationwidecranetraining.com/wp-content/uploads/2021/08/crane_operator_training.jpg
987
1500
resultsAdmin
https://www.nationwidecranetraining.com/wp-content/uploads/2021/06/Nationwide_Crane_Training_NCT_logo.png
resultsAdmin
2021-08-11 18:41:02
2021-12-23 17:45:07
Which Workers Benefit Most from the Labor Shortage?