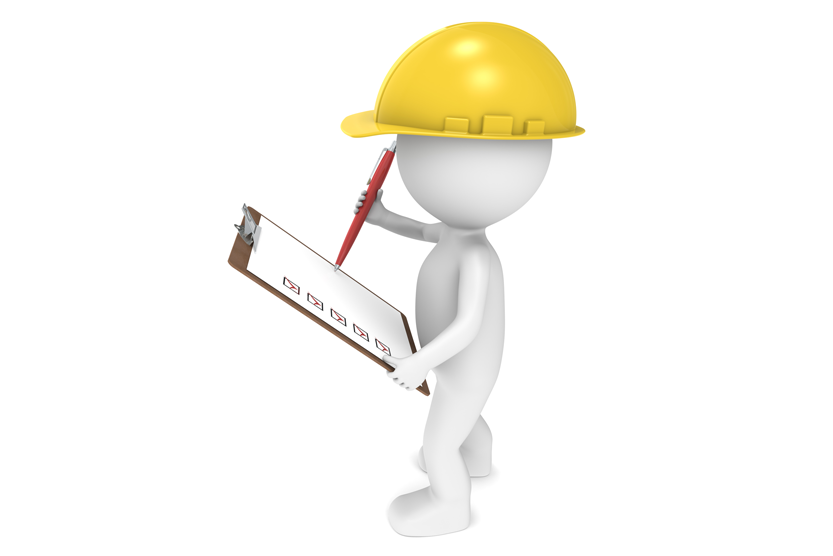 If you are an employer or mobile crane operator, it's your responsibility to ensure that everyone on the job site is aware of the hazards of using this equipment. By routinely inspecting your cranes and following safe work practices, you can help keep your team safe and avoid costly and unnecessary accidents.
The downloadable mobile crane inspection checklists provided are intended as a starting point for you to customize based on your operations. These meet all of OSHA's federal safety regulations. However, your state-specific standards may not be identical, and additional rules may apply based on your industry.
We are committed to safety and provide comprehensive mobile crane safety training programs. NCT's mobile crane operator school courses are designed to meet or exceed the requirements of OSHA 1926.1412 and cover the safe operation of all types of mobile cranes. We've helped thousands of operators acquire NCCCO and CCO certification.
Rules for Mandatory Inspections
OSHA standard 1926.1412 says a qualified and competent person needs to inspect the crane. According to the regulation, "At least every 12 months the equipment must be inspected by a qualified person in accordance with paragraph (d) of this section (each shift)…"
"Qualified" means one who, "by possession of a recognized degree, certificate, or professional standing, or who by extensive knowledge, training, and experience, has successfully demonstrated his ability to solve or resolve problems relating to the subject matter, the work, or the project."
OSHA defines a competent person as "one who is capable of identifying existing and predictable hazards in the surroundings or working conditions which are unsanitary, hazardous, or dangerous to employees, and who has the authorization to take prompt corrective measures to eliminate them."
Inspections are required under the following conditions:
Equipment is Modified
Repaired or Adjusted Equipment
Post-Assembly
Each Shift
Monthly
Three Months (documentation for the past three months is required)
Annual/Comprehensive
See OSHA standard number 1926.1412 for more information.
Common Safety Hazards
Unlevel cranes are a common reason for accidents. If the crane is not level, it can fall over while lifting heavy loads or running the boom out. Damaged equipment can also be a major hazard for those on the job site. Additionally, if a crane is not inspected before use, there could be structural damage to the boom or mast, which can cause it to buckle.
Another common reason for accidents on construction sites running mobile cranes is unstable ground conditions, especially in poor weather. If the crane drives off the excavation edge or tips in sideways, not only will repairs be necessary, but there could also be extensive damage done to the site.
Common Causes of Accidents and Injuries
When it comes to mobile cranes, there are several hazards that can occur if mobile cranes are not operated safely. To reduce the risk of accidents, crane operators need to be aware of the potential dangers.
Power Line Contact
Powerline contact occurs when a crane's boom or load line comes into contact with a powerline. This is especially dangerous because even if the powerline isn't live, it can still be electrically charged from the power grid and is very dangerous for those nearby.
Rigging Failure
Rigging failure occurs when a crane's rigging fails to hold its load, causing the load to fall or swing dangerously. This could lead to injury or death to those around the crane if they are hit by falling debris or other objects.
Structure Failure
Structure failure occurs when the crane's load is too heavy for the structure it is mounted on, causing it to collapse. This can injure or kill people working nearby and those in the surrounding area.
Tip Overs
Cranes tip over when the crane's center of gravity gets shifted so that the crane falls over. This can crush or kill nearby people and those working on the ground.
Swing Radius
Swing radius accidents occur when a crane is not operated correctly or safely, causing its load to swing erratically or dangerously. This could cause injury or death to those near the crane if it's hanging over them.
Crane-Related Occupational Injuries
In 2017 Dr. David Michaels, Assistant Secretary of Labor for OSHA, said, "Before OSHA was Created 43 years ago, an estimated 14,000 workers were killed on the job every year. It means 38 fatalities and injuries a day."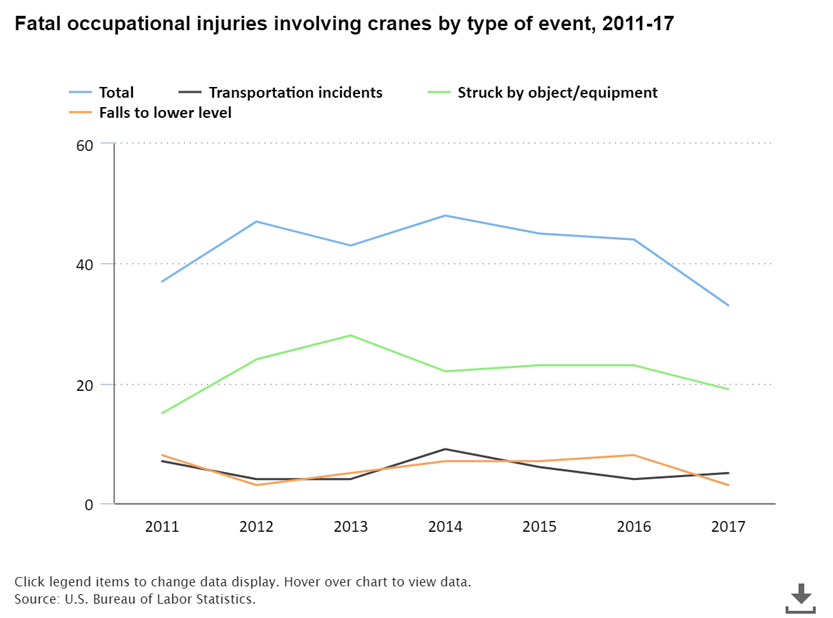 Downloadable Mobile Crane Shift Inspection Checklist (PDF)
The best way for operators and employers to avoid crane accidents is to have a comprehensive safety plan, including regular inspections of equipment, safe work practices, and proper training for all those working with the crane. A daily mobile crane inspection checklist can help with this.
Although documentation of a daily checklist is not required, an inspection every shift is.
Downloadable Monthly Mobile Crane Inspection Checklist (PDF)
If you run a mobile crane, you must provide regular monthly inspection documentation. This monthly mobile crane inspection checklist meets all the federal regulations. As mentioned, make sure it matches your state-specific requirements and customize it for your specific use.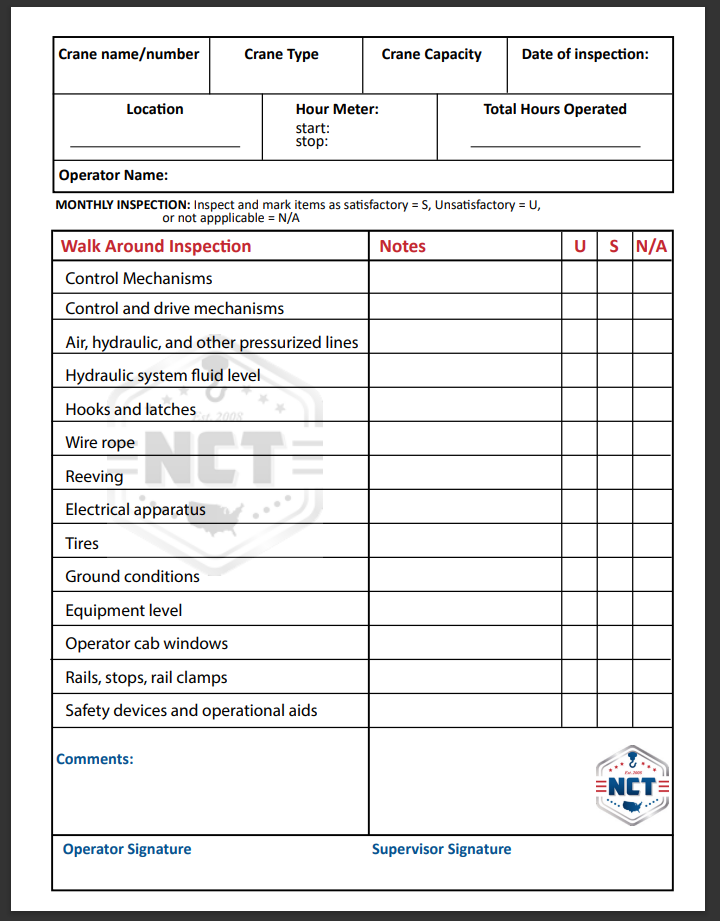 Nationwide Crane Training Crane School
NCT is the preferred heavy equipment operator training school for crane operators who work in public and private utilities, road and bridge construction, mining operations, oil and gas, forestry and public land management, and more. We are headquartered in Washoe Valley, NV, with training centers across the US and customized on-site training and in-person classes. Our NCCCO certified heavy equipment instructors and trainers include military veterans, experienced riggers, signal persons, and crane inspectors. Find out which crane training classes are best for you or your company.
https://www.nationwidecranetraining.com/wp-content/uploads/2021/06/Nationwide_Crane_Training_NCT_logo.png
0
0
resultsAdmin
https://www.nationwidecranetraining.com/wp-content/uploads/2021/06/Nationwide_Crane_Training_NCT_logo.png
resultsAdmin
2022-03-22 18:39:00
2022-03-22 18:39:00
Daily and Monthly Mobile Crane Inspection Checklists