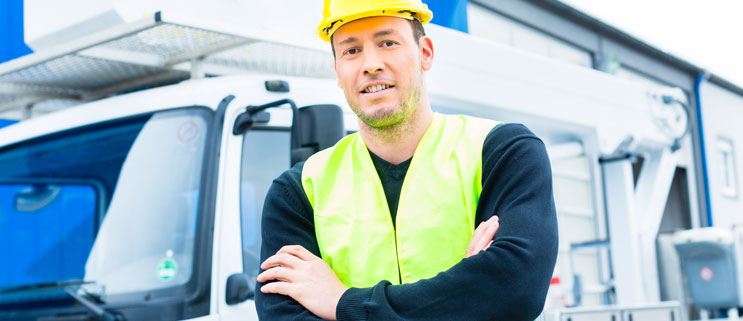 New NCCCO regulations went into effect this month (April 2013) that have wide reaching implications for crane operators everywhere. This new certification not only applies to service truck crane manufacturers but also to operators and the companies that own them as well.
These smaller cranes have been subject to OSHA 1926 Subpart CC since 2010—which requires operators to be certified if they are involved in the delivery or placement of goods and products at construction sites. However, this new wider-reaching NCCCO certification program was suggested just last year by the 17-member Service Truck Crane Operator Work Group.
"We recognize the unique characteristics of the service truck crane industry and we're tailoring a program that meets the needs of the users in this niche market," said Joel Oliva, NCCCO Program Manager, Test Development. "As a subset of NCCCO's existing mobile crane operator certification, this won't be an entirely new program, so it is being developed with the oversight of NCCCO's mobile crane practical exam and written exam management committees."
The new certification involves a single written exam in conjunction with a practical exam which are similar to current TSS testing but modified to accommodate for the smaller size of the boom. Operators must pass both portions of the testing in order to earn certification.
Certifications May Be a Response to Increasing OSHA Citations
The numbers of OSHA citations for service truck crane operation have been increasing since 2010 with the "heavy hitters" being:
Non-Certified/Qualified Signal Person – Not only must the signal person be qualified and certified to operate in such a capacity but the company's documentation of the signal person's training and certification must be readily available should OSHA wish to inspect it.
Non-Qualified Rigger – Only qualified riggers must be employed to secure loads. (Being hit by falling objects—often lifted by crane—is one of OSHA's "Fatal Five" construction site accidents accounting for the vast majority of worksite injuries and deaths).
Improper Ground Conditions – The area around the jobsite must be inspected to ensure the crane is safely positioned in regards to soil firmness, location of power lines, and other potential hazards. In addition, proper warning signage must be in place to notify individuals in the area (including, in some cases, the passing public) that a crane is in operation.
Failed/Incomplete/Absent Inspections — Equipment must be inspected yearly by a qualified individual. Companies can face massive citations if their equipment hasn't been inspected or if the documentation of that inspection is lacking. Also, citations for improperly repairing deficiencies noted during inspections are on the rise.
NCCCO Regulations Bring New Restrictions
In addition to the changes made for the service truck crane operation certification process, these new regulations restrict just what certified operators can do. The NCCCO Telescopic Boom-Fixed Cab certifications are now no longer reverse compatible. While individuals who currently have CCO-STC certification will still be able to operate these smaller cranes, those who earn their TSS-STC certification after April 2013 will be restricted to using just these types of service truck cranes until they pass further certification testing.
Nationwide Crane Training now offers Both CCO and TSS-STC classes nationwide in order to fulfill the need for training brought about by this new class of certification. NCT classes are flexible (both in scheduling and location) in order to make training your operators as easy for you as possible. In addition, instructors are real-world experts with years of experience. NCT also guarantees that your operators will pass the written portion of their NCCCO testing.
Find out how crane operators responded to this news here>>
https://www.nationwidecranetraining.com/wp-content/uploads/2013/05/Service_Truck_Crane_Operator_Certification-1.jpg
321
743
results1
https://www.nationwidecranetraining.com/wp-content/uploads/2021/06/Nationwide_Crane_Training_NCT_logo.png
results1
2013-05-14 08:50:09
2021-05-16 16:20:09
New Regulations for Service Truck Crane Operators