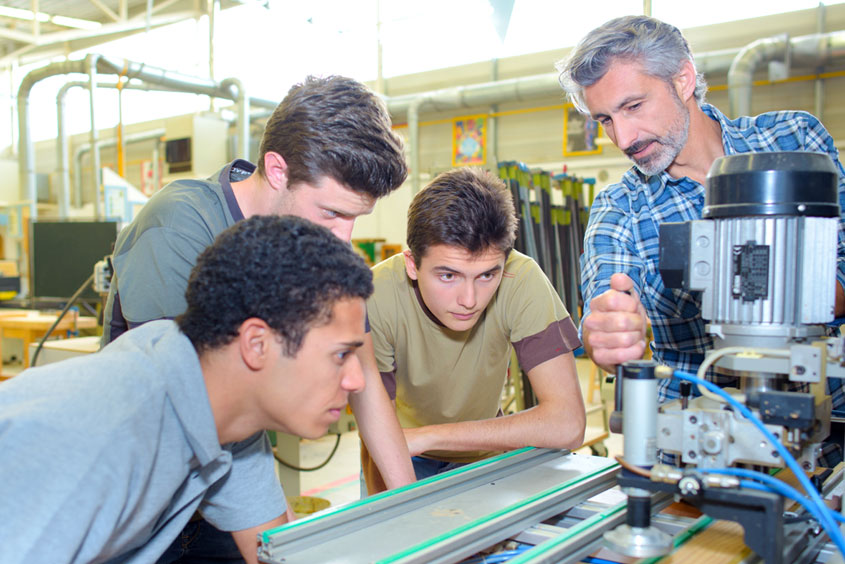 If you like dealing with people and you're good with your hands, a skilled trade is one of the best industries to get into. Crane operators are at the top of the food chain in the world of heavy equipment. No matter where you get started, you'll need a crane operator certification to get hired.
Lots of high schools encourage trade schools but it seems like most of them push college on students. Not everyone is cut out for college. There's a myth that college is harder than learning a trade but the truth is it's not easy to learn a trade.
You've got to have some serious skills. You need to be smart and sharp! If you stick with it there are endless opportunities. The industry is growing fast and the demand is high.
Supportive and Safe Culture – An Uplifting Career
Almost every skilled tradesperson enjoys their profession. It's never boring. There's always something new every day and your fellow workers become brothers and sisters. Crane operators and signal people are two of the most important jobs on the site. It comes with much respect because you have the most responsibility. That respect also comes with high wages.
If you have ever worked on a construction crew where there's heavy machinery or any danger involved, you know how important it is to keep your crewmates safe. When you get to the site you have to figure things out.
We've helped thousands of people launch successful careers in the construction industry.
Now is the time to get into action. If you or someone you know is ready to sign up for a crane operator certification class near you, enroll today.
Crane Certifications Lead to High Wages
Heavy equipment operators have more opportunities than regular laborers. Plus the average wage for 90% of the top crane operators is over $87,000. More than double the national average for people that are 24 to 40 years old.
It's good to be in high demand. The industry is estimated to grow by around 8% from 2014 to 2024, which is also above the national average. Keep in mind that there are no limits to how much you can make. Even if you start at minimum wage you can move up the ladder all the way up to owner status.
Most of the owners and managers of construction companies started as laborers and moved their way up. Yard workers, oilers, landscapers, roofers – pretty much anything that requires the use of your head and your hands is a valuable experience.
Fringe Benefits and Opportunities
If you are just starting after you obtain a crane operator certification, you're going to be making $50,000 to $60,000 and everything is covered. Dental, prescriptions, sick pay, massage therapy, paid time off, and everything else. You will get paid for apprenticeships too.
Because skilled trade workers are in high demand right now, it's easy to find a job. Just search the internet for crane operator certification jobs near me. It takes talent, intelligence, and years of practice to be a top earner but there are always people above you that are willing to show you their tricks.
Remember, there are no limits to how much you can make as an experienced operator. After you get some time under your belt and work a lot of hours you can easily make around $160,000.
Financial Freedom and Travel
The first words that come to mind when we think of certified crane operators and skilled workers are tough, hard-working, talented, and honorable. These are some of the most respected and important professions in the world. They are truly rewarding careers you can take pride in.
Heavy machine operators and skilled workers are the heart and soul of America. They do the heavy lifting for everybody else. It's obvious in every town. How could we build anything without their talent and contributions? That's one of the reasons why machine operators are some of the most respected professions in the industry.
Most tradespeople in the construction business are the kind that can fix anything and build just about anything they set their minds to. Some don't realize how hard rigging can be.
Everything needs to be set up properly, you need to be cool under pressure, and you need to know your math. NCT's classes are run by card-carrying NCCCO instructors from all backgrounds ready to help you learn the ropes.
Need a Lift? There's a Crane For That
If it needs to be picked up and put down there's a crane for that. Mobile crane jobs can range from anything from putting a hot tub in someone's backyard to handling material for commercial projects or working on movie sets. If you can run a crane you can run any heavy equipment machine after that.
New models come out every year and safety practices are always evolving. Mobile cranes are used for lifting, moving equipment, handling materials, drilling, driving pilers, and a bunch of other stuff. NCT crane certification classes cover everything you need to know to run:
Small Telescopic Boom Cranes (Fixed Cab/Boom Truck)
Large Telescopic Boom Cranes (Swing/Cab/Rough Terrain)
Lattice Boom Crawler Cranes (LBC)
Lattice Boom Truck Cranes (LBT)
Service Truck Cranes
Articulated (Knuckleboom) Cranes
Digger Derricks
Find Work Anywhere in the World
When there's a gap in supply the demand for workers is high. Right now the demand is far-reaching. There are lots of opportunities. Work is always there and wages in the US are among the best in the world. It's an important job, no doubt about it, and operators get the pay they deserve.
Education from trade schools and apprenticeships used to be one of the most popular ways to get high-paying jobs in the US. But the recent shortage of workers is a big problem for businesses. Thanks to unions and non-union workers – the wages in the US are higher than in other countries like Canada and Japan.
With a crane certification and the right experience, you can work anywhere in the US but also other countries including Europe, or Japan. Union or non-union jobs keep wages up.
In the US the wages and rates are pretty steady and they stay up.
The Labor Shortage is a Good Thing For You
Skilled workers are the backbone of our country. Nurses, air traffic controllers, police officers, firefighters, military engineers, carpenters, plumbers, postal workers, heavy equipment operators, drywallers, and painters all contribute to society in a big way.
Due to the labor shortage, certified crane operators and other heavy equipment operators can find work anywhere they go.
Companies of all sizes need smart operators with crane certifications. If they can't get enough people with the right skills projects take longer and they get less business. Unions are great but mom and pop businesses also need tradespeople. You can make good money either way.
Get a Crane Operator Certification From NCT to Start an Exciting Career
If you want to get your hands dirty, experience is one of the main things that companies look for. NCTs classes give you hands-on experience with the heavy equipment you need to pass the practical test for a crane certification.
The exciting thing about our crane operator certification classes is that they are open to everyone with a high school diploma or a GED. It's easy to enroll and anyone from the age of 18-60 can sign up.
Our heavy equipment operator courses cover all material needed to jumpstart your career. All you need is the desire to get started. If you or someone you know needs to get certified or recertified, call or contact us to find a crane certification class near you.
https://www.nationwidecranetraining.com/wp-content/uploads/2021/06/Nationwide_Crane_Training_NCT_logo.png
0
0
resultsAdmin
https://www.nationwidecranetraining.com/wp-content/uploads/2021/06/Nationwide_Crane_Training_NCT_logo.png
resultsAdmin
2021-10-16 20:03:55
2021-12-23 17:17:46
Why a Crane Certification Might Be Better Than a College Degree