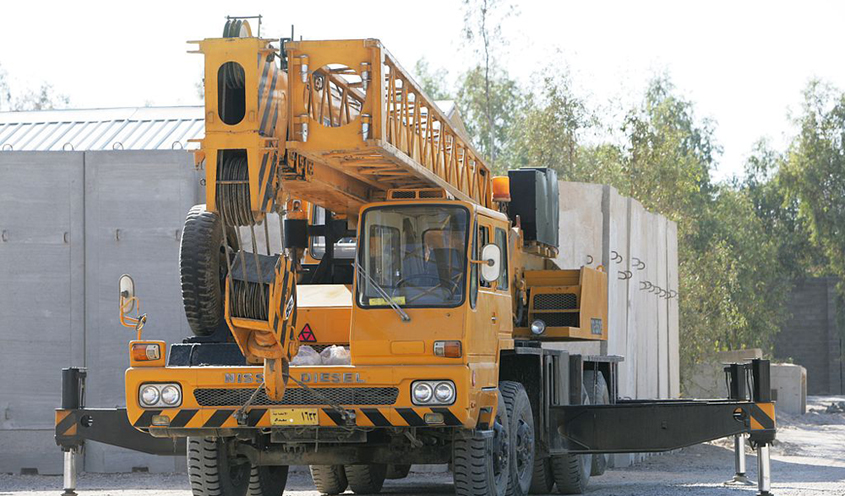 You may not think you need online crane certification—after all, you've likely been on the job for years. But let's consider your position as a crane operator, how you got there, and why you want to stay there.
Operating a crane sets you apart from the rabble on any job site. The very fact that you've pulled yourself up by your bootstraps, learned the technical skills necessary to safely and effectively operate a multi-ton machine, and have dedicated your time to becoming a much more valuable addition to the team speaks volumes about who you are as a person. Not only do those skills put you in a better bargaining position today, they'll keep you at the top of the list should work shortages pop up if the construction industry slows down.
But to stay in the driver's seat of these machines you need OSHA-approved certification and recertification on a regular basis. That can become a hassle if you let it. But Nationwide Crane Training is here to help with quick and easy online crane certification that won't cut into your money-making time behind the controls!
How Cool are Cranes?
Cranes (and their man-powered predecessors) have been around for thousands of years. They've been used on job sites large and small. From massive tower cranes that build skyscrapers in our cities to mobile boom cranes that deliver machinery and materials all around the country, cranes have become an essential part of multiple industries that help keep America running. Construction, infrastructure, telecommunications, transportation and delivery, there are cranes woven into every aspect of the working world. But not all cranes are created equal.
Truck-Mounted Boom Cranes
The smaller, supremely maneuverable cranes are used pretty much anywhere and appear in multiple industries including construction, transportation and delivery, and the utilities. Designed to be mounted on various sizes of truck (from pickup to flatbed and even larger platforms) these cranes are most often used to transport items that are too large or too heavy for traditional lift systems like forklifts. These utilitarian cranes are amazing because they can work their way into tight spaces and deliver raw materials and machinery precisely. (Think of the delivery drivers who maneuver loads of sheetrock right through window frames in newly constructed homes.) And because these cranes are the most common type of crane in the country, there are many more opportunities for individuals to get behind the controls of these product movers. Thinking about a career change? Online crane certification can put you there in days, not weeks or months.
Carry Deck Cranes
These unique types of cranes look very similar to their larger cousins. They're purpose-built with a cab, a rotating boom, and a flatbed-style carrier system. However, they share many characteristics of a truck-mounted boom crane. First, they're usually much smaller than a traditional hydraulic boom crane. Next, they can be maneuvered in relatively tight quarters. Their booms can be rotated 360 degrees to put payloads pretty much anywhere. Typically you see these types of cranes on larger job sites moving loads that are too heavy for truck-mounted booms. As versatile as these types of cranes are, their usefulness is restricted by relatively small load limits. Operators of these types of cranes are doing something new almost every day, facing and overcoming obstacles like maneuvering in busy worksites, calculating a variety of loads and rigging configurations, and delivering precision results in challenging situations.
Knuckle Boom Cranes
Knuckle boom cranes are the next step up the chain. These types of cranes are equipped with booms that fold (at a "knuckle"—hence the name.) This unique ability allows a relatively long-reaching crane to be compacted onto a relatively small delivery vehicle. While knuckle boom cranes range in size, typically they're used when the load that needs lifting is heavy but the area in which the crane must operate is restricted. Many utility companies use knuckle boom cranes when building or revamping power transmission or generation stations. NCT's online crane certification courses give you the skills you need to successfully operate these common types of cranes including the ability to understand terrain and how it relates to a lift, rigging essentials, and signal-reading skills.
Stiff Boom Cranes
Stiff boom cranes were, at one time, the most common type of medium to large cranes working in America. And while some of their jobs have been taken over by knuckle boom cranes, there will always be a place in the workforce for these workhorses. Identifiable by their straight boom (usually hydraulically powered and telescopic), these cranes usually have a higher load limit than knuckle boom cranes and can reach sizes that are truly massive. They're called stiff boom cranes because the boom itself is not articulated in a way that allows it to fold. Indeed, when it needs to extend or contract, the boom slides in or out. And because these cranes are designed to handle some of the heaviest loads around, the operators who sit behind the controls of stiff boom cranes often command some of the highest salaries in the construction industry.
Crawler Cranes
Crawler cranes are purpose-built cranes that feature tracks instead of tires. While these cranes have to be delivered to job sites and cannot roam the roads unassisted, they bring that ability to tackle terrain that would send tire-bound cranes home crying. Typically used in worksites with uneven terrain, some types of these specialized cranes have been developed for use in swampy, sandy, or unprepared terrain. NCT's online crane certification can give you the basic skills you need to get behind the controls of one of these monsters and find a job that's a little more than a little off the beaten path. Indeed, operators of these types of cranes often enjoy working in the great outdoors, far away from the confines of congested urban areas.
Online Crane Certification Opens More Doors Than the One to Your Crane's Cabin
Unlike other specified training you might pick up during a career in construction, transportation, or the utility industries, crane certification doesn't just give you a static set of skills that are non-transferable. While most new operators opt for online crane certification to give them an advantage over general laborers (who are often stuck doing the grunt work), the skillset they learn is much more valuable than it may seem at first.
Lateral Movement Gives Crane Operators Opportunities Anywhere
Choose Your Industry
Firstly, when you earn online crane certification, the opportunities that are immediately available to you are immense. While many people simply think that all crane operator jobs are in the construction industry, that couldn't be further from the truth. These same skills are transferrable to a number of industries with higher-paying jobs including:
Transportation and delivery
Infrastructure
Utilities (electric, telecommunication, water and sewer)
Logging and forestry
Energy (oil exploration and drilling)
Mining
Find Your Dream Home
And with such a wide array of jobs available, crane operators can essentially choose where they want to live. From busy urban centers like New York City (which has one of the highest average pay rates for crane operators in the United States—a whopping $94,000), to sunny resort towns in Florida, to the wilds of Alaska and even more remote areas like oil drilling rigs in the middle of the ocean—if you can't find a job in an area in which you want to live, you're not looking hard enough.
Don't Limit Your Career Path
And because you'll learn an essential set of skills during your online crane certification, you'll have the ability to step into other roles as well—either part-time if operator jobs ever become scarce or full-time if you're looking for a change of pace as you get older.
The in-demand skillset you learn during your crane training and through your years of experience behind the controls you'll be able to transfer into positions that include:
Worksite safety inspector
Heavy equipment operator
Qualified rigger
Job site foreman
And if you've saved up a bit because of the much higher than average wages you're earning as a crane operator, you may be able to start your own company and become your own boss.
Of course, if you're considering NCT's online crane certification simply because you love your life behind the controls of these massive machines, you'll find no shortage of work. There are currently more than 57,000 open crane operator positions in the United States alone.
Don't Let Recertification Sneak Up On You
You're living the life. You've got your dream job behind the controls of a multi-ton crane swinging loads that would make all the young bucks on the job site envious. You enjoy great hours, higher pay, and the pride that comes with knowing that you've got skills nobody else does. Work is going great—until out of the corner of your eye you spot the OSHA inspector.
Your palm breaks out in a sweat on the joystick. You begin to doubt your calculations as much as you did standing in front of the blackboard in calculous class. You can't remember if your certification is up to date or not!
You haven't had performance anxiety this bad since your parents chaperoned you on your first real date.
Don't let this happen to you!
Crane operators in the United States have to be certified. That certification is only good for 5 years. After that, recertification is necessary. But you don't have to go through a clunky old course and take time off from work to get that recertification like you used to. Nationwide Crane Training offers online crane certification courses that you can complete almost anytime and almost anywhere.
Start now and you'll be done in days, not weeks.
Online Crane Certification Classes at NCT
Our online crane certification classes contain everything you need to get recertification fast. You'll have access to an easy-to-use platform that provides all the necessary refreshers you need, expert help in the form of our certified instructors, and course materials you can view anywhere you have an internet connection.
This online interactive webinar takes just two days to complete (not two weeks!) and delivers everything you need to know in order to pass your exams and earn that NCCCO recertification. You'll have a quick refresher course on:
General Crane Knowledge
Technical Information
Load Chart Components
Crane Site and Setup
Operations
Specialty Crane Load Chart
Lattice Boom Truck
Lattice Boom Crawler
Telescopic Fixed Cab
Telescopic Swing Cab
These online crane certification courses cut the time it takes to get recertified down to almost nothing and make the process so much easier. Of course, you'll still have to pass the written and practical exams but with our industry-leading source material and custom-crafted course curriculum, passing is a breeze.
Learn more about our online crane certification today and see just how quick and easy the process can be.
https://www.nationwidecranetraining.com/wp-content/uploads/2021/06/Nationwide_Crane_Training_NCT_logo.png
0
0
resultsAdmin
https://www.nationwidecranetraining.com/wp-content/uploads/2021/06/Nationwide_Crane_Training_NCT_logo.png
resultsAdmin
2021-09-14 20:31:09
2021-12-23 17:22:56
Online Crane Certification: Get in Driver's Seat of These Mega Movers